5 years ago -

IT, IoT

-

Singapore

-

825 views
---
All structures, whether bridges, wind energy plants, water, gas and oil pipelines, tunnels, oil rigs, pavements, rails, but also ships, planes, trains or others are subject to various internal and external factors which may cause wear or malfunction. This can happen, for example due to deterioration, an incorrect construction process, lack of quality control or an extreme situation resulting from an accident or environmental load. To be able to observe these changes in the material and to react in a proper way before serious damage is caused, the implementation of a damage identification system is crucial. The monitoring of structural behavior can detect anomalies in time, thus enabling maintenance and repair actions to be implemented more efficiently, with a direct impact on the reduction of operating costs. Replacing schedule-driven maintenance with condition-based maintenance is the main goal of infrastructure monitoring providing the following benefits.
Benefits of Infrastructure Monitoring
Boost (life) safety
Continuous observation
Automation of maintenance
Detecting damage in early stage to enable proactive response
Extension of major overhaul cycle
Saving of costs and time
Structural Health Monitoring System for Different Industries
Civil Engineering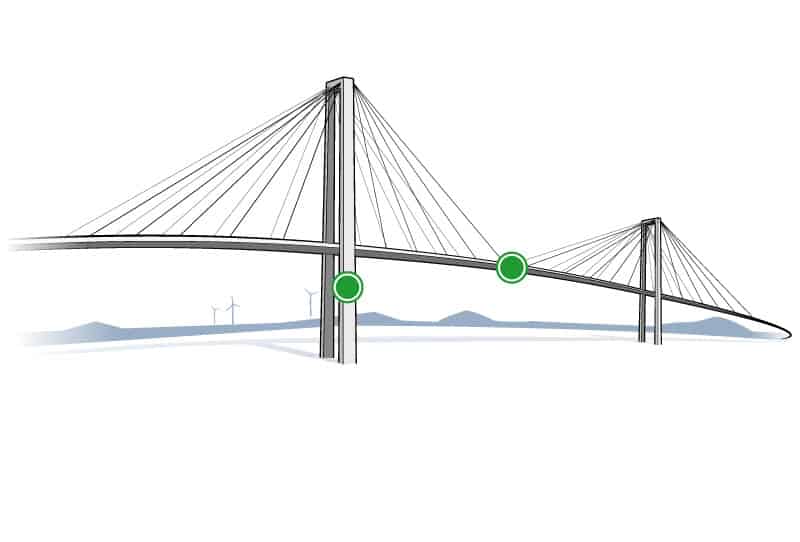 Short and long-term monitoring of bridges, tunnels, buildings and high pressure water pipe,roads and foundations. Measurement of the applied loads and life time prediction.
Wind Energy
Professional structural monitoring of on- and offshore wind power plants. Measurement on tower, foundation, rotor blades and on other components. 
Railway
Continuous, stand-alone monitoring of vehicle loads, handling, out of roundness (WTMS) and effect on the superstructure (OBM). Long-term measurements on rails, railroad switches and ties.
Oil & Gas
Efficient measuring on offshore applications. Using measurement technology to monitor risers, pipes, cranes, foundation structures, pipelines etc.
Measurement Technology for Long- and Short-Term Monitoring
A customized solution including sensors, measuring amplifiers, data acquisition software, data transmission and analysis provides the technical basis for efficient monitoring. However, correct sensor installation, commissioning and maintenance as well as the conditioning of test results are indispensable to ensuring successful use of a structural health monitoring system. Both HBM's modular test and measuring equipment and the highly competent support and service provided by HBM support you and, if necessary, can handle your entire project.
Measurement data alone is not sufficient today. Data transmission, automatic alarms and analysis, comprehensive logs as well as remote diagnostics and control are indispensable for operating monitoring systems. Wether you use a complex company network or a stand-alone solution, HBM is looking for providing you with the perfect solution.