5 years ago -

Smart Industry, Manufacturing

-

Japan

-

482 views
---
Space-saving, high-speed scaler robot ES series

High speed handling
Super rigid arm and servo control give this horizontal articulated scara robot fast, high-accuracy operations.
High-speed operations meet demand to support a wide range of fields, from the handling of small parts to high precision assembly work.

Cycle time of standard
arch motion
ES06 : 0.29sec
ES12 : 0.30sec
Prevent cable interference
Hands with internal passage for wiring available to be mounted on tip of arm.
Wiring and piping can be run internally to the point where the hand is attached.
Minimize area in which robot cables interfere with peripheral equipment.
Fully utilize installation space
Possible to access entire periphery with swivel operation range.
Improves flexibility when considering robot layout.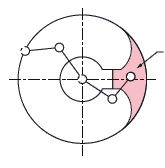 Range of swivel operation reaches entire periphery and back area